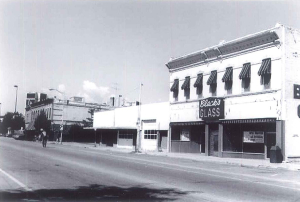 107 Years ago, Wils M. Black was seen riding his bicycle around Fort Collins, with a cart in tow to carry glass to be installed in homes.  He was known as "Black the Glass Man".  Wils laid the foundation and paved the road for Black's Glass' success and role in Fort Collins history.
In 1957, the Peterson family acquired the then well established glass shop.  During the 25 years in their family, Black's Glass played an important role in building Fort Collins as it is known today.  This included projects such as the storefronts in Old Town, homes in old town, CSU, YMCA, and numerous other commercial and residential projects.
In 1982, Ray Hess and Ray Dean, former employees, acquired the business.  They continued to grow the business and play an important role in the community, keeping the vision and principles that Wils M. Black had set forth.  Ray Dean left the business in1990, leaving Ray Hess as the sole principal of the company.  He continued the growth and always encouraged his employees to set the highest standards of quality workmanship, as well as to maintain long lasting relationships with customers and within the community.  Ray Hess led the company into its second century with a strong reputation and record breaking sales.
In 2011, Black's Glass was acquired by Tyler Hess (Ray's Son/Lead Service Tech) and Jasmin Ramirez (Accountant /General Manager).  Both had been long time employees.  Ray Hess continues working as Estimator and Service Manager.  In 2015, Black's Glass continues to set the standard for quality and service in the Northern Colorado area.  The business is thriving and growing, and continues to focus on lasting relationships and the "Black's Glass Family", the team of employees who makes it all possible!